*PROJECT 142 CONCERT* – *TO BE RESCHEDULED* – April 27, 2020 – ALESSANDRO VENA SOLO CLASSICAL CONCERT PIANIST (New York City Concert)
May 29 @ 8:00 pm

-

10:00 pm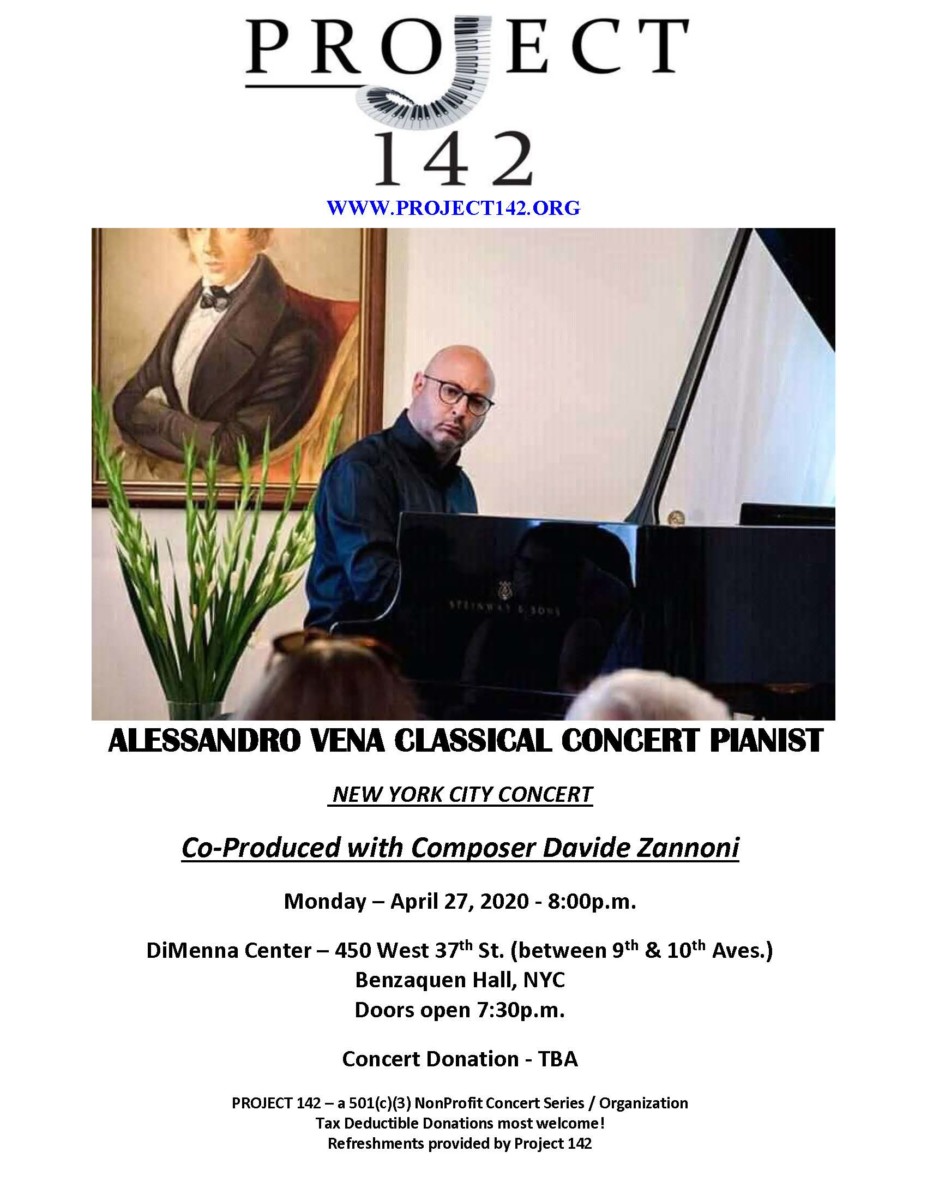 *PROJECT 142 CONCERT*
www.project142.org
**TO BE RESCHEDULED**
Monday – April 27, 2020 – 8:00p.m. – DiMenna Center – NYC – ALESSANDRO VENA SOLO CLASSICAL CONCERT PIANIST (New York City Concert) – 450 West 37th St. (between 9th & 10th Aves.) – Benzaquen Hall (elevator to 1st floor), NYC 10018 – www.dimennacenter.org .
Doors open – 7:30p.m.
Concert – 8:00p.m. – 10:00p.m.
Co-Produced with Composer Davide Zannoni – www.davidezannoni.com
Program – TBA
https://facebook.com/alessandro.vena.71
Classical Concert Pianist Alessandro Vena returns to NYC to perform another breathtaking beautiful concert for Project 142 Concert Series. Truly one of Italy's finest gifted solo Classical Concert Pianists, Alessandro Vena will be presenting new compositions as well as selections from his vast repertoire of Classical music. Grazie Alessandro!
Concert Donation – TBA
Refreshments provided by Project 142
Street parking after 7:00p.m.
Subway Stop for DiMenna Center – 7 Line – West 34th St. & 11th Ave.
www.mta.info
Project 142 Concert Series
a 501 (c)(3) Non Profit Organization
www.project142.org
ALL DONATIONS WELCOME (Tax Deductible)
Online Donation Link – www.project142.org/donation-page-new