*PROJECT 142 CONCERT* – Wednesday – July 15, 2020 – **TO BE RESCHEDULED – SOON* – MICHAEL DREXLER SOLO PIANO CONCERT – NYC
March 20 @ 8:00 pm

-

10:00 pm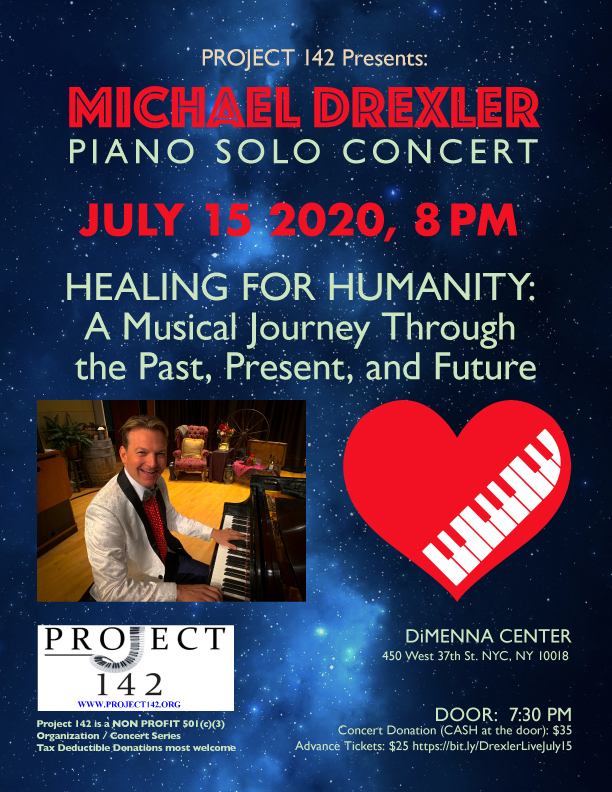 *PROJECT 142 CONCERT*
www.project142.org
**TO BE RESCHEDULED – SOON**
**TO BE RESCHEDULED – SOON**
Wednesday – July 15, 2020 – 8:00p.m. – MICHAEL DREXLER SOLO PIANO CONCERT – 450 West 37th St. (between 9th & 10th Aves.)- Benzaquen Hall (elevator to 1st floor), NYC – 10018 – www.dimennacenter.org .
Michael Drexler – www.modrexler.com (Pianist & Composer)
Doors Open – 7:30p.m.
Concert – 8:00p.m. – 10:00p.m.
Concert Title:
Healing for Humanity: Musical Journey Through The Past, Present and Future
ADVANCE ONLINE DISCOUNT TICKETS via:
https://bit.ly/DrexlerLiveJuly15
Experience this one of a kind event with Grammy Nominated Pianist Michael Drexler in New York City. Michel Drexler's music, while taking references from the past, acknowledges the present moment and honors the future to come. You will be anchored into a meditative music state for a positive, uplifting and memorable musical experience for healing the body, mind, soul and spirit. Drexler uses the piano keys to gently guide you through a sonic journey of the past, the present and the future. Drexler combines the great piano sounds of the past from the likes of legends Scott Joplin, Albert Ammons and Meade Lux Lewis and transports you to a new dimension. While keeping an engaging nod at the present moment, Drexler will be showcasing some of his original compositions from his upcoming album "Healing" (2020). Hear Michael Drexler as he transports you into the future by performing music that will guide you to places you have never sonically experienced. The body, mind, soul and spirit will be transformed from Michael Drexler's delivery through the sonic soundscape of the grand piano.
Compositions and Arrangements by Michael Drexler
Featuring a Special Surprise Guest
Michael Drexler's Bio:
Michael's current piano solo project "Healing" (2020) features sounds, melodies and harmonies designed to lift our spirit, increase our conscience presence and promote our overall well being.
Grammy Nominated Michael Drexler developed a unique style at the piano, combining soundscapes that bridge the gap between nostalgia and the freshness of the future. Award-winning pianist Michael Drexler has entertained crowds as big as millions of people to the humble intimate settings of piano bars. Michael's influences range from Scott Joplin, Albert Ammons and Meade Lux Lewis to Miles Davis, Herbie Hancock and modern pop artists. Drexler says, "Some people speak through words, I speak through piano keys".
Concert Donation –
$35.00 (CASH at door please)
ADVANCE ONLINE DISCOUNT TICKETS ($25.00) via:
https://bit.ly/DrexlerLiveJuly15
Street parking after 7:00p.m.
Subway Stop – 7 Line – Hudson Yards Stop (West 34th St. & 11th Ave.)
www.mta.info
Project 142 Concert Series
www.project142.org
a 501 (c)(3) Non Profit Organization
ALL DONATIONS MOST WELCOME (Tax Deductible)
Online Donation Link –
www.project142.org/donation-page-new
CHECK DONATION –
made to please: PROJECT 142 CONCERT SERIES, INC.
Send to –
PROJECT 142
1 Rainbow Road, Norwalk, CT 06851